The National Road Rally is a "navigational scatter rally" for motorcyclists around England – a sort of two wheeled treasure hunt, with riders being given a map of locations around the country, challenged to plan a route between them and visit them on the rally weekend – scoring points depending on distances between each location and being given an award based on their final score.
A few weeks beforehand, we were sent the "matrix", a map of the control locations that need to be visited, routes between them and points available to score.
Each control location has a sign on display on the day with a unique code, riders need to make a note of this code and submit it on the NRR website later to prove their visit. Some controls are also manned by volunteers – in past events they used to stamp a physical card to confirm your visit, but now it's to provide a social side to the event, somebody to have a chat to while you take a break from riding for a few minutes.
Possible awards range from Daytime Chrome – requiring 5 control visits on a single day – and National Platinum – requiring exactly 24 control location visits and exactly 560 points between them (335 on Saturday and 225 on Sunday) – with lots of other options in between. It's up to the rider on the day which award they attempt.
The event used to run through the day and continue overnight, but rules for the 2023 were that you needed to finish Saturday by 22:00, rest overnight and pick up again on Sunday from 06:00.
I planned a few different route options, but eventually settled on a platinum around the North of England, starting on Saturday morning in Bury and ending Sunday evening in Warrington.
Day 0 – Douglas to Bury via Liverpool
The start time at the first location needed to be between 09:00 and 09:30 on the Saturday, so for me that meant travelling over to Liverpool the night before to be able to start in time.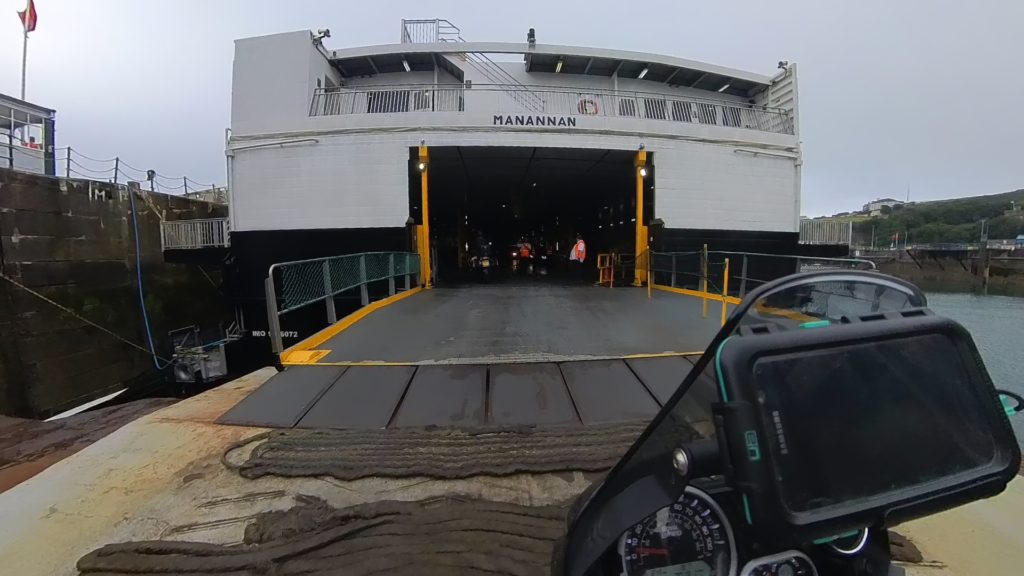 A slightly bumpy crossing, not too bad – but the rain started to come in the further we got down the Mersey – so went to most direct (read: motorway) route to my hotel in Bury, close to what would be my first control the next morning.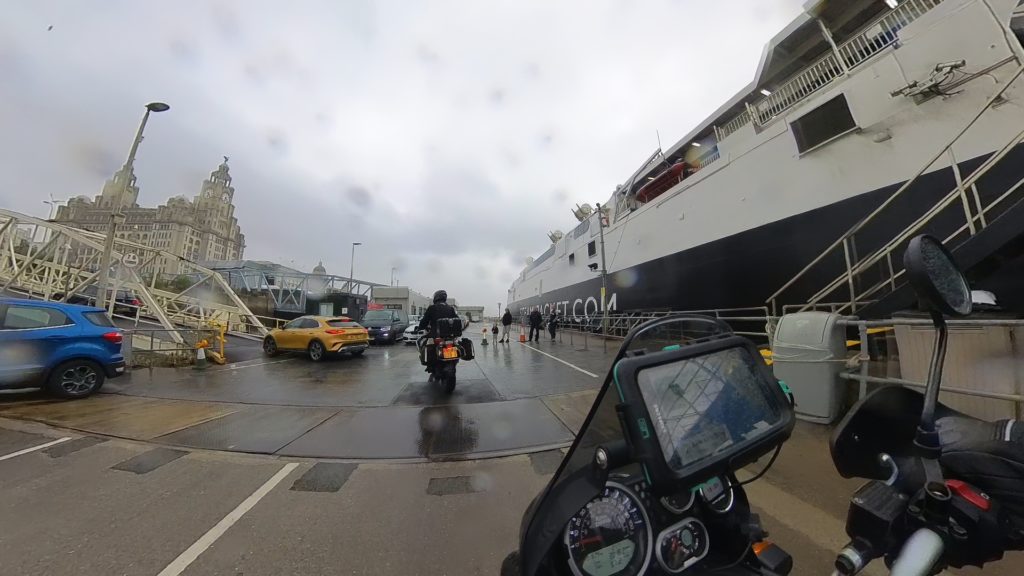 Day 1 – Bury to Firtree
Bury
A short 10 minute ride from my hotel, my starting point was at the Hells Belles WMC Clubhouse "The Cauldron" – they'd laid on hot drinks and food for hungry riders and quite a few had chosen it as their first control, setting off together at 9:00.
Blackburn
The rain picked up again as I left Bury, I'd planned a route to avoid going straight on the motorway first thing, so had some scenic roads… that were starting to disappear underwater. Control location was at Youles Motorcycles – a big motorbike dealership which made it straightforward enough to find, the control sign was clearly on display outside.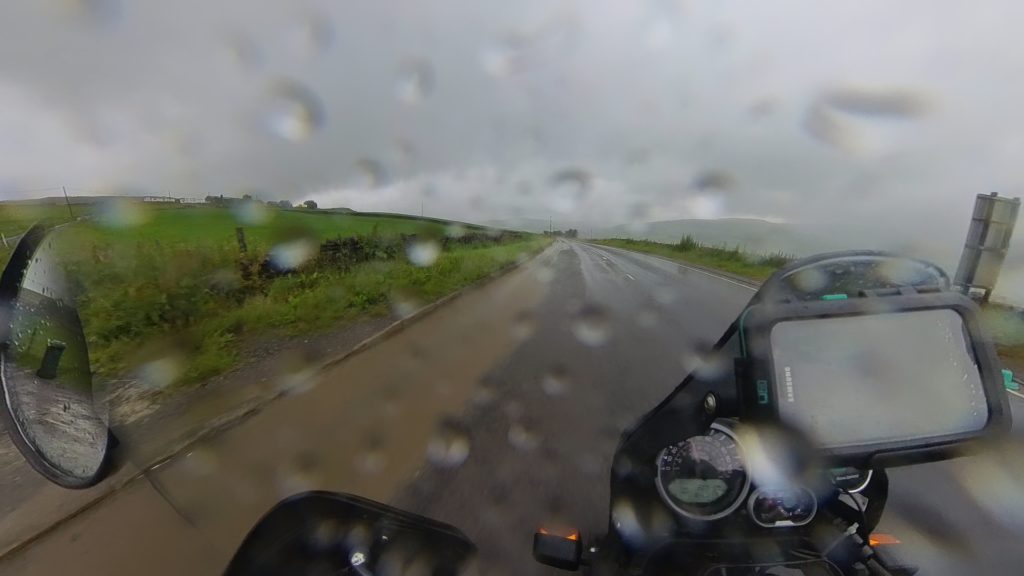 Ingleton
I'd originally planned a slower/more scenic route out of Blackburn but decided to stick to A roads while the weather was still bad, saving time and miles for more interesting ones later in the day.
The control point was a car park in Ingleton village, there was a "1940s day" being hosted at the same location, with everyone dressed up in period costume and some vintage vehicles in attendance.
Had to spend some time looking for the sign – the car park had two entrances and it was next to the one I'd not used. I took a photo of my bike next to another sign that would prove I'd visited it, then almost immediately managed to find the control sign.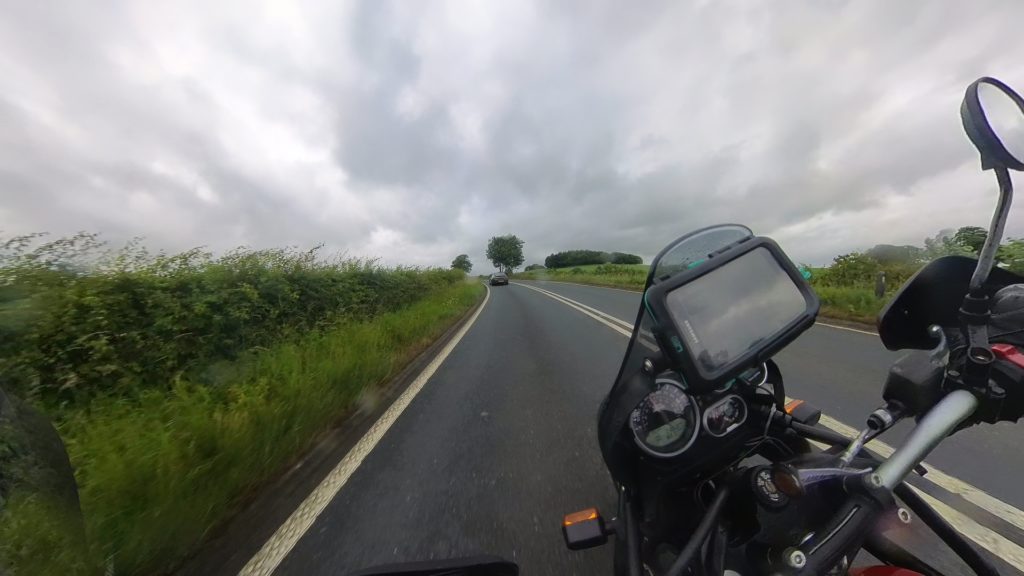 Sedburgh
At last, the roads had started to dry out. Just before getting to Sedburgh, I came across two cars stopped in the middle of the road with the drivers having a chat. I waited patiently for a minute or so, but just as I was going to get off the bike to find out what was going on I spotted the herd of sheep being driven across the narrow bridge in front of us by a farmer and his sheepdog!
The control location was easier to find here, as it was being manned by a couple of members of the Christian Motorcyclists Association and an opportunity to chat and rest for a few minutes.
Newby Bridge
Enjoyed the ride to Newby Bridge, some great views from the rapidly drying roads – and even some blue sky – which my camera really doesn't do justice to.
I must have slightly miscalculated my fuel stops and hadn't been keeping a close enough eye on the gauge, so suddenly noticed it was well in to the red with just a few miles left showing on the dashboard, slowed down and luckily that "miles remaining" number started to creep up enough to get me to the petrol station.
The control was at the Lakeland Motor Museum. It took me a few minutes to find the control sign as I went in to the car park, but spotted it pointing towards the road from the edge of that car park. The museum looked interesting and I'd like to return for a proper look around.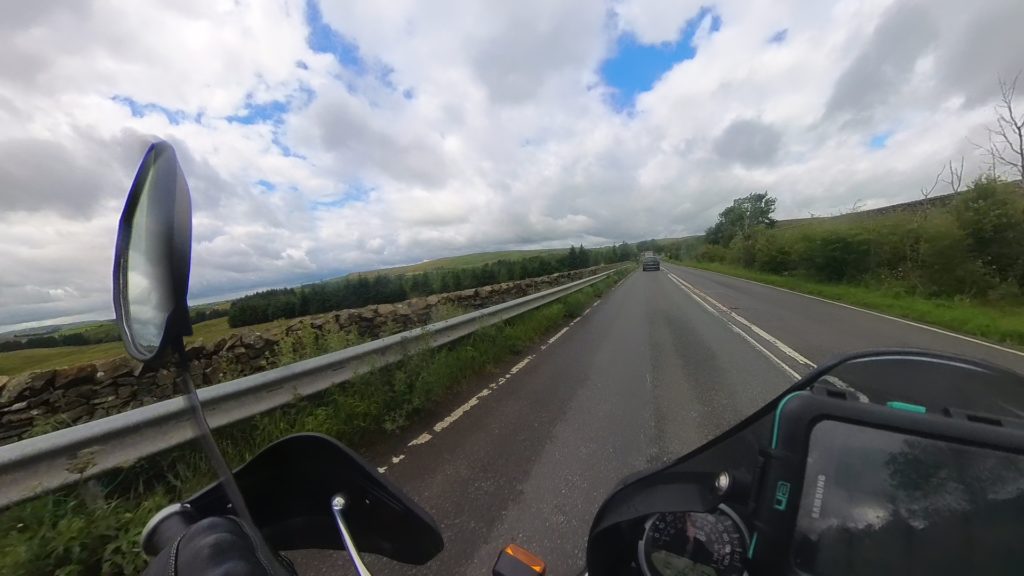 Ravenglass
The Corney Fell road between Newby Bridge and Ravenglass was one of my favourite of the weekend, great fun with some incredible views and lots of sheep to dodge.
The control location was the Ravenglass and Eskdale Railway station in the village where I'd planned a longer rest stop for lunch (annoyingly, also the one location of the day that bikes needed to pay for parking – never seen "pay and display" for motorbikes before!)
Being able to see the miniature steam train arrive and depart was a nice bonus!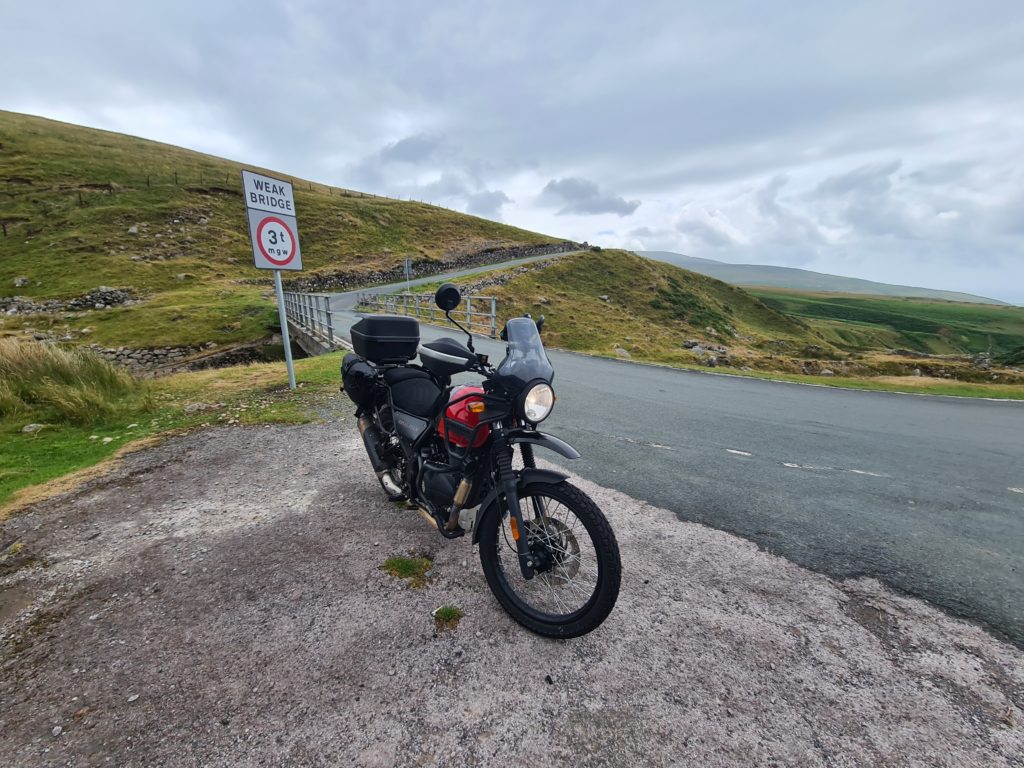 Whitehaven
Blue skies, dry roads and little traffic now, following the coast away from Ravenglass.
An easy ride in to the town to find the control location at Dave Milling Motorcycles, but got a little lost in the one way system around the town centre – then found the main road towards Keswick closed (as well as every way I tried to get around the closure for a while) – so definitely lost a little time here.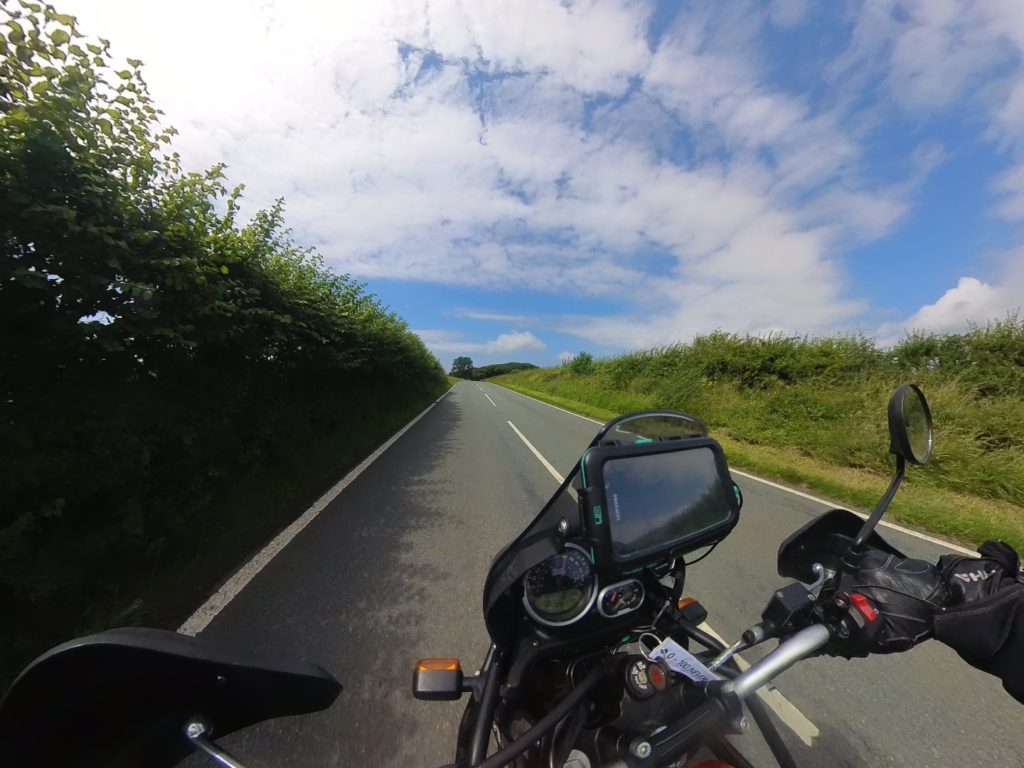 Keswick
A very brief rain shower after my false sense of security about the weather, right at the best view of this road, passing Bassenthwaite Lake.
The Filling Station Cafe – looked like a nice place with motorcycle parking right out the front and the control code on display on the front door.
Carlisle
The most northerly point of the route. Had planned a nicer route but ended up on the motorway by mistake (Google Maps user error!). This was the only location I found missing a control sign. The shop was closed for the day so I had a good look around but there was nobody around to ask about it (good excuse for a few minutes break from riding).
We'd been told in advance to just take a photo if a sign was missing to prove that we'd visited, and the organisers would exchange this for a code later.
Saw on Facebook later that the sign hadn't arrived in time for the event, so the organisers were happy to accept this location without a code at all.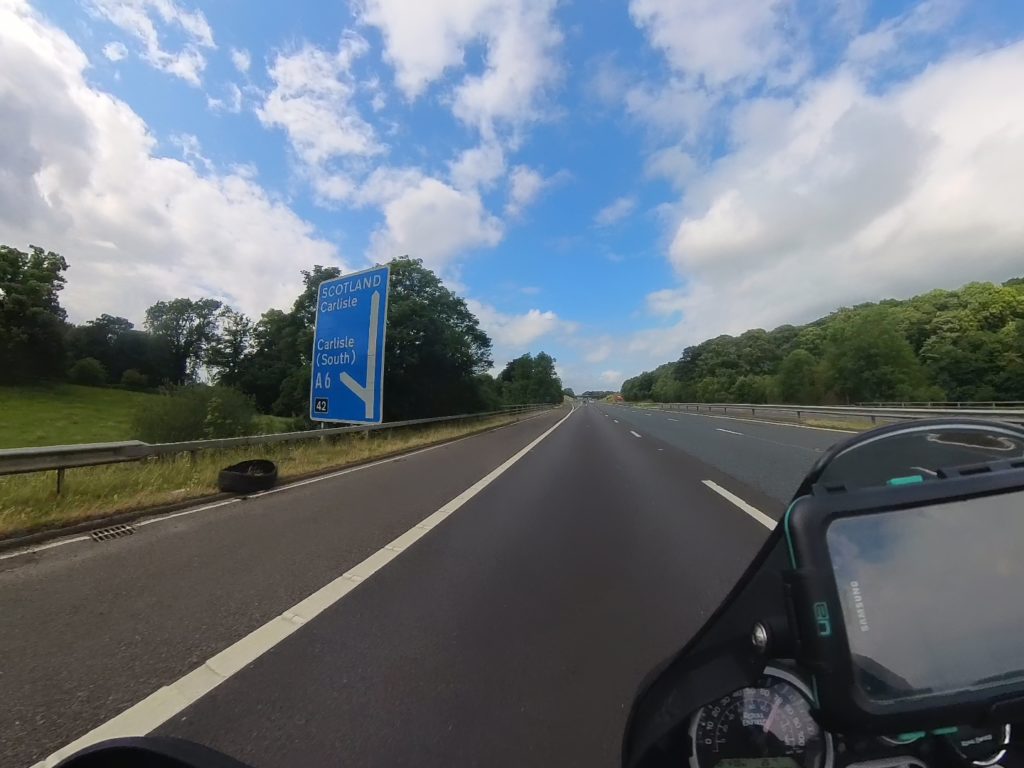 Penrith
The route back South was much more fun, avoiding the motorway with the sun out.
I accidentally went right past the location (despite Google Maps taking me right to it) and on in to the industrial estate looking for it, re-checked the map and found it on a second ride round. Ran in to a group of rally participants as I was leaving, then had to do the "ride of shame" back past them again as I'd gone down a dead end by accident – oops.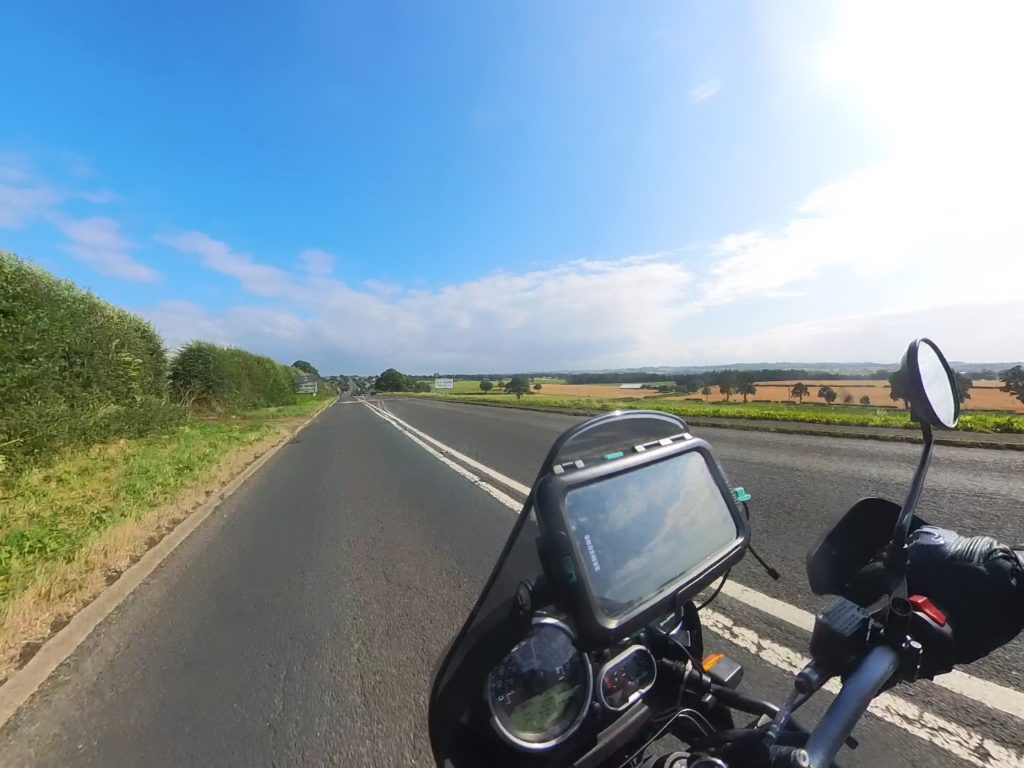 Alston
The journey to the Alston control took me over the Hartside Pass, another of my favourite roads from this trip. The wind started to pick up here and when I stopped for a photo at the top I had to lean in to it just to stand upright! The control location was at The Nook Farm Shop and Cafe that had unfortunately closed by the time I got there.
Hexham
From the Alston control location the roads were virtually traffic free all the way to the outskirts of Hexham.
The control was at the Errington Coffee House where I met another rally rider – from our brief conversation sounded like he was doing a similar route in the other direction, heading towards Whitehaven via Alston.
Newcastle On Tyne
A shame to have to do city riding just after such nice roads, but traffic was thankfully light by this time and didn't have any issues finding the control point at Triumph Newcastle.
Firtree
The end of my route for the Saturday, and the control sign was found right by the main road. I ended up around an hour behind where I'd estimated, losing a few minutes at a time throughout the day, but still well before the cut off time for the day's riding.
Found some healthy dinner on the way.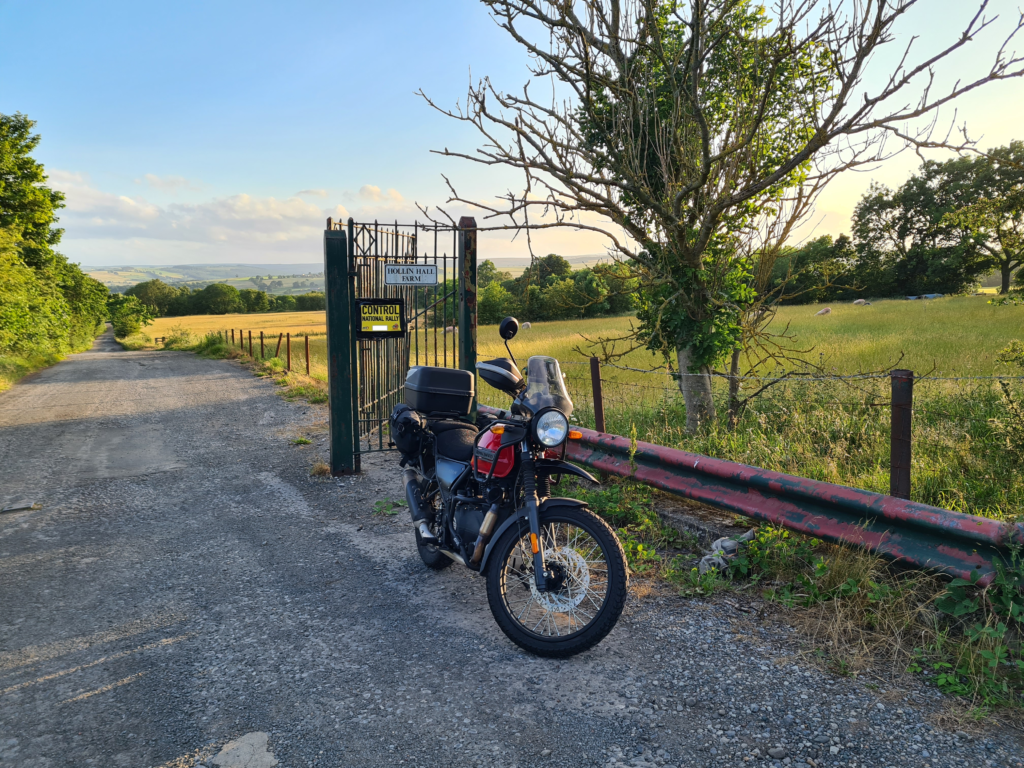 Off to my hotel for the night in nearby West Auckland, where I had a quick walk around the village after being sat on the bike all day and learned it was home to a football team who had played in and won the first World Cup.
Day 2 – Firtree to Warrington
Firtree
Back to Firtree as my starting control for Day 2 – the rules for the 2023 rally allow you to start at the same control as you finished the previous day at – and count it as an additional location towards the required 24 for a platinum award.
I was pretty sure the code would be exactly the same as it had been the day before, but just in case – and in the spirit of the event, to actually visit these places – I went back to the location for around 8:30. I could have started earlier, but wanted to make sure I was well rested before setting off, being relatively confident about planned timings based on how I'd got on the previous day.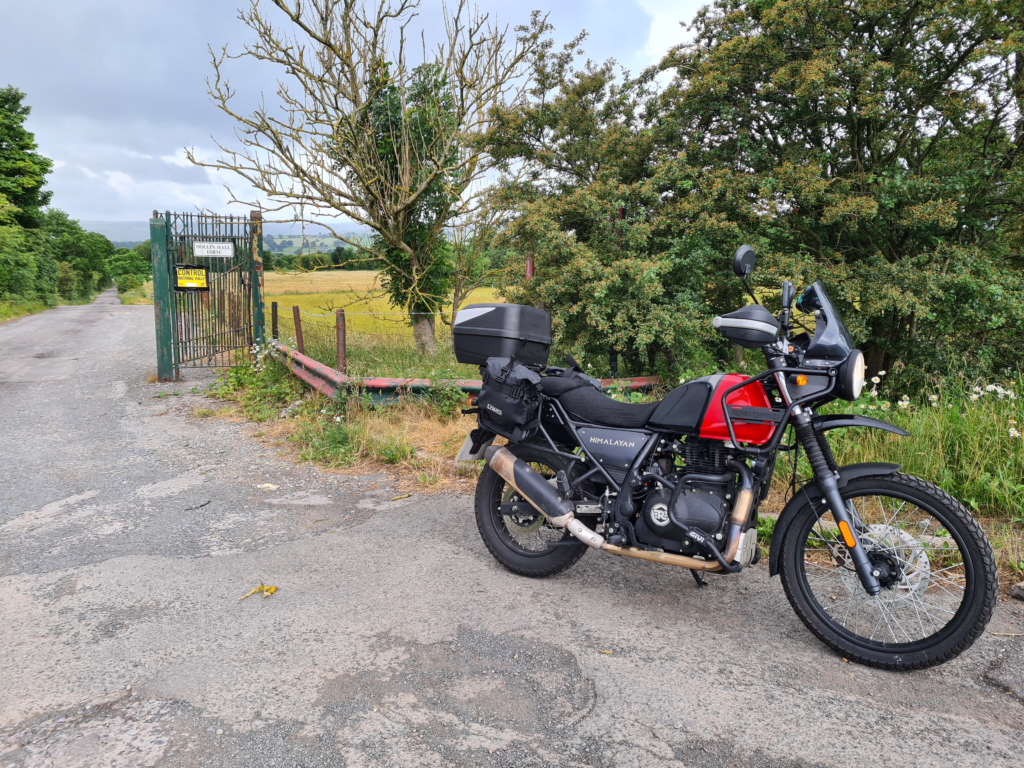 Stockton on Tees
Some more urban riding which was good to get out of the way early on with little traffic. Control sign clearly on display at Crofton Court Motorcycles.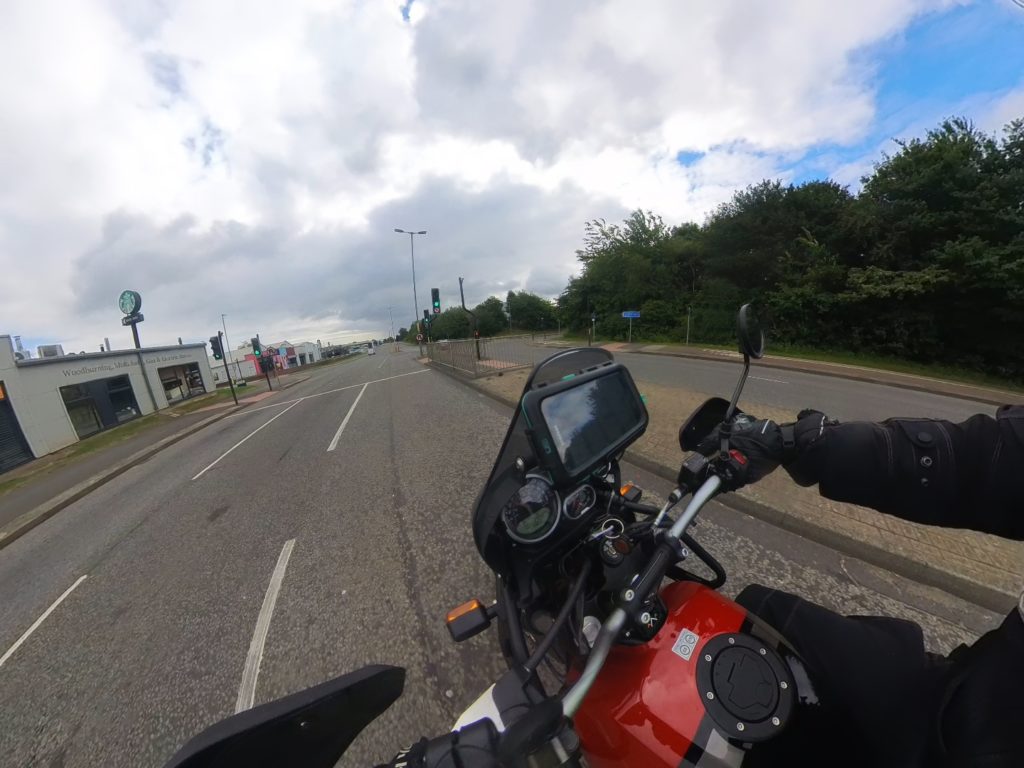 Thirsk
I followed the A19 and A168 almost all the way from Stockton – dual carriageway for most of the journey and in hindsight I could have planned a more interesting route between these controls, but it made the control location easy to find if nothing else.
Met by some members of the Christian Motorcyclists Association at the Starbucks where the sign was displayed and enjoyed a coffee and chat with them before moving on to my next control.
Knaresborough
Was expecting this location to be manned, according to the instructions, nobody around – though I did see another rider who stopped to get the control code too. The sign was on display on the main road next to McDonalds.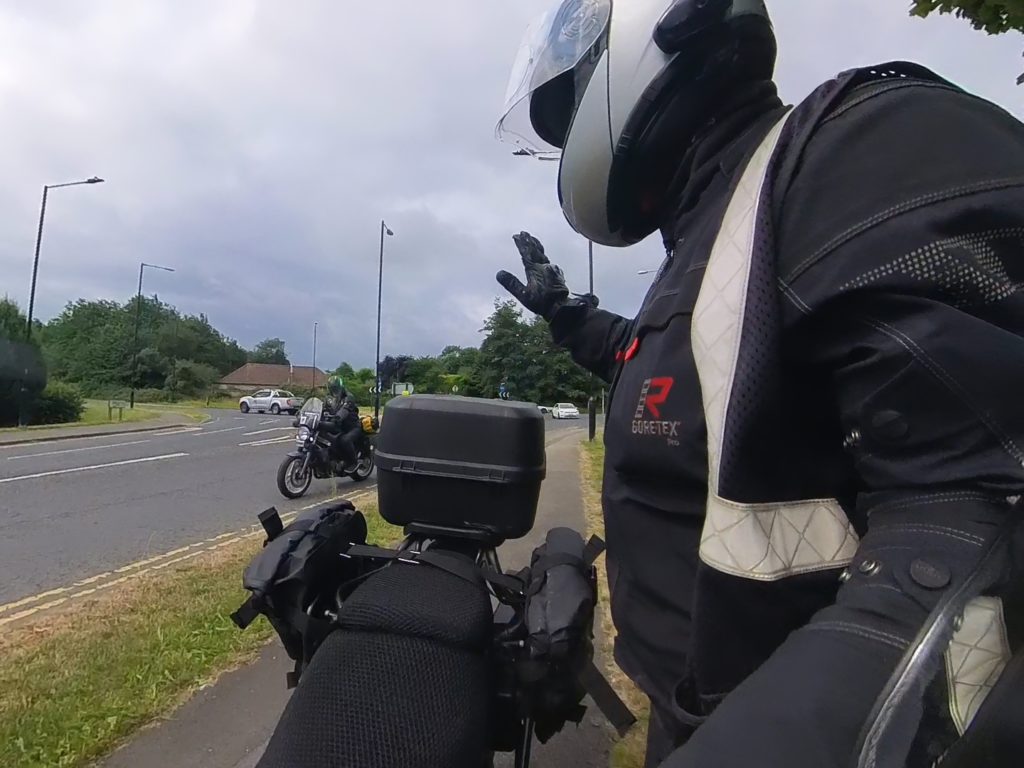 Skipton
The A59 road might have been nicer with a few less potholes, but still a fun ride. Located the control sign at the Route 59 Cafe which seemed like a popular biker destination.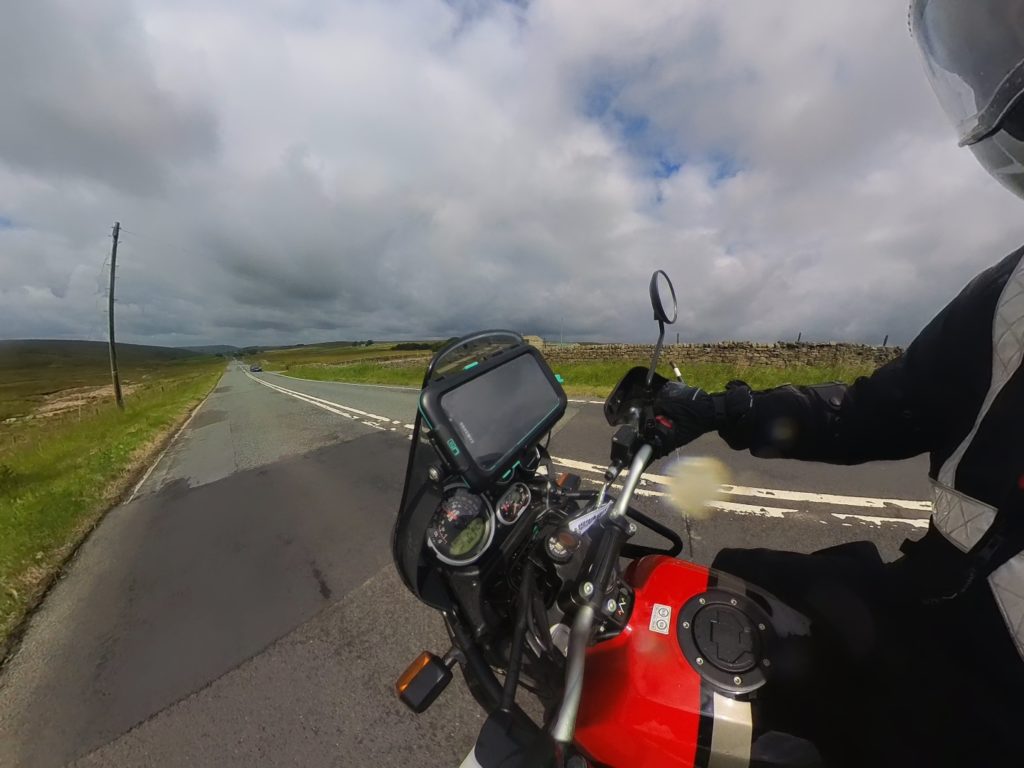 Halifax
Went through the centre of Halifax, and saw all the tourist sights – the Halifax bank office in Halifax.
I had noticed in my mirrors that I was being closely followed by the car behind me as I approached the control location, so slowed down and indicated in plenty of time before turning off of the main road. Still heard a screech of tyres as I started to make the turn and would rather not think about how close they got to crashing in to me. Found the control sign displayed at the entrance to Heath Rugby Club then went round in circles a few times looking for the petrol station.
Barnsley
Out of the town and on to some nice country roads. You could probably plan a route that would take half the time on motorways and dual carriageways, but it wouldn't be nearly as fun.
Hartley Engineering might not have been the most scenic place for a rest break, a drink and a snack, but it did me just fine!
Sheffield
More city riding, unfortunately this time my Sena bluetooth system ran out of battery power just as I was getting to the city centre, which made navigation a little more tricky, but found the control sign on the gates to SMC Bikes and made it out of the city without issue.
Woolley Bridge
The A628 road to get here was another great scenic route, but slow moving traffic following a large lorry and double white lines for most of it made it take longer than it could have. More time to take in the views was nice, though.
This was the last manned control of my journey, and I also ran in to the rider I'd met at the Hexham control the evening before, still heading in the opposite direction to me. Enjoyed a brief chat but decided to move on to get my final control ticked off sooner rather than later.
Warrington
Anticlimactic in some ways, as I'd have liked to have finished up at a manned location, which may have given it more of a sense of occasion than just noting down another number before leaving (I understand that this one was supposed to be manned but had to "close" early). Met another rider also finishing his rally so congratulated each other.
Took a photo of my completed control cards, for a backup in case I lost them and made my way to Liverpool for my boat home.
Results
I was able to enter my completed control list and numbers from the signs on the NRR website that night when I got home, and pleased to say the system awarded me the Platinum award I'd been aiming for.
A big thank you to the organisers for putting the event on, and for everyone manning the controls over the weekend.
The Bike
I can't deny being a little apprehensive about doing such a long ride on the Himalayan, I'd not had it long, having been riding a Tiger 1200, an armchair of a bike, almost exclusively for the past 8 years and heard other owners talk of the discomfort of riding them for any significant distance.
Overall I was really pleased with it, I fitted a mount and power socket for a GPS (an old phone with Google Maps and CoPilot for offline mapping) and a "Chill Mesh" seat cover from Enfield Accessories and did not experience any discomfort during the weekend (at least beyond what you'd have doing those kind of miles on any machine!)
For luggage I had a Givi topbox for things I'd need access to during the day – drinks, snacks, power bank, cables etc and a set of medium Lomo dry bags – more than enough luggage for a weekend away.
The Route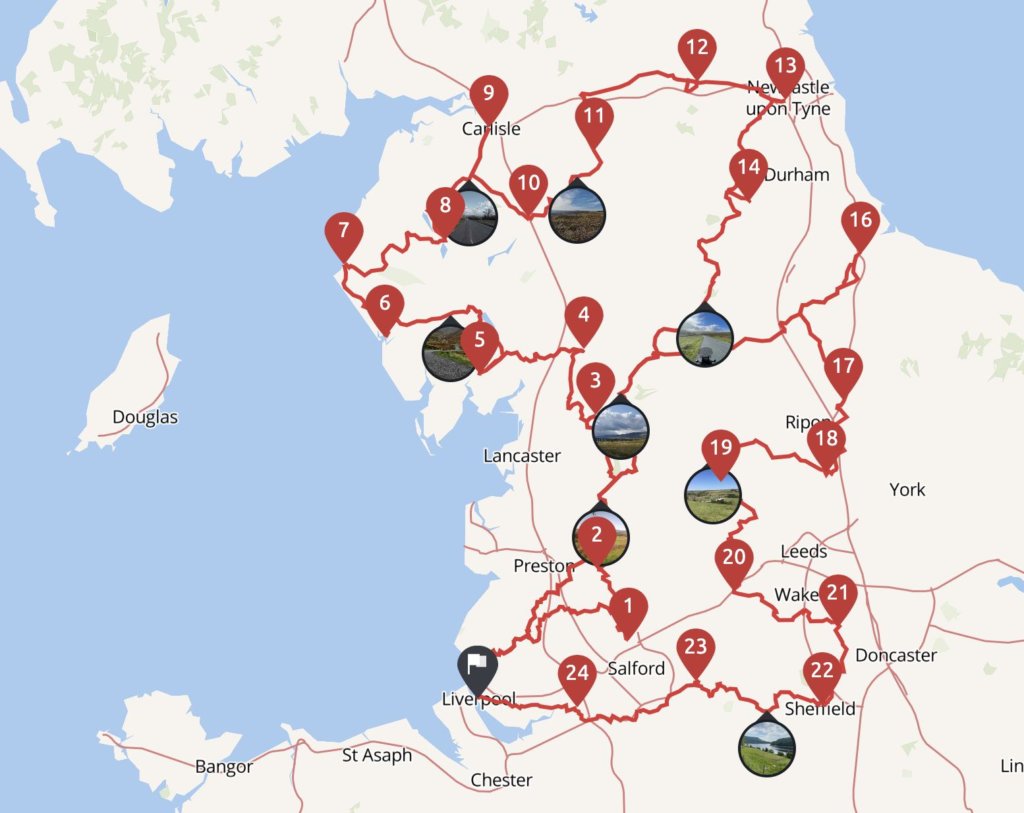 More details
More details and full results for all 494 participants can be found on the National Road Rally website. The date for next year's event has been announced as Saturday 6th and Sunday 7th July 2024.